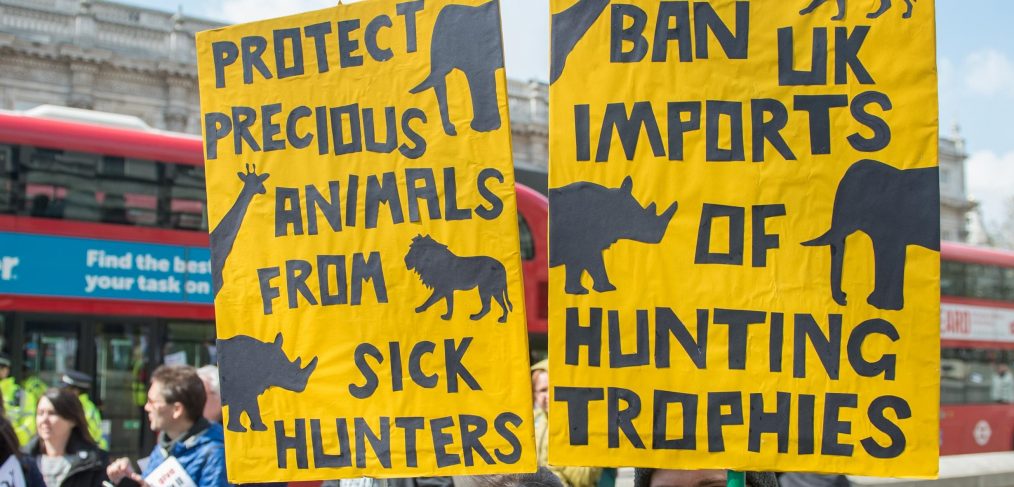 'It's neocolonialism': campaign to ban UK imports of hunting trophies condemned by African delegation
Former colonial powers seeking to pass laws that threaten the rights and livelihoods of rural African communities and their wildlife, need to consider this impact and hear what Africans have to say about it first.
That's the message that a delegation from the Community Leaders Network of Southern Africa (CLN), which represents hundreds of communities involved in conservation in the region, has been delivering to British and European policymakers they have been meeting on a special visit.
The UK, Belgium and Italy have proposed anti-hunting legislation that includes bans on hunting trophy imports. The community representatives are in Europe to explain community-based natural resources management (CBNRM) and how hunting supports rural development. They will be making their case to the European parliament in a hearing on June 1.
In an article published today, Patrick Greenfield, the biodiversity and environment reporter for the UK's Guardian and the Observer newspapers, reports on the visit and Southern African communities' opposition to the legislation, quoting Maxi Pia Louis, a Namibian member of the delegation and CLN's executive committee:
"Africans are not being consulted, especially in southern Africa where we have the majority of wildlife."
This week, Louis met with UK's international environment minister, Zac Goldsmith, along with other British politicians, to express communities' opposition to the ban in its current form, insisting that it would remove financial incentives to protect wildlife without providing an alternative.
In Louis' opinion, some UK political leaders and celebrity anti-hunting campaigners like comedian Ricky Gervais, have adopted a neocolonialist approach to the hunting issue, without considering wider implications for communities and conservation.
"Africans are not being consulted, especially in southern African where we have the majority of wildlife. If there is no incentive to conserve wildlife, we will see a lot of land lost to agriculture. You can imagine what will happen to lions and elephants that need big ranges," the report quotes Pia Louis, who, with her colleagues, is also meeting with Belgian, French and German political representatives during this trip.

Read the Guardian article here
Patrick Greenfield  is on Twitter: @pgreenfielduk